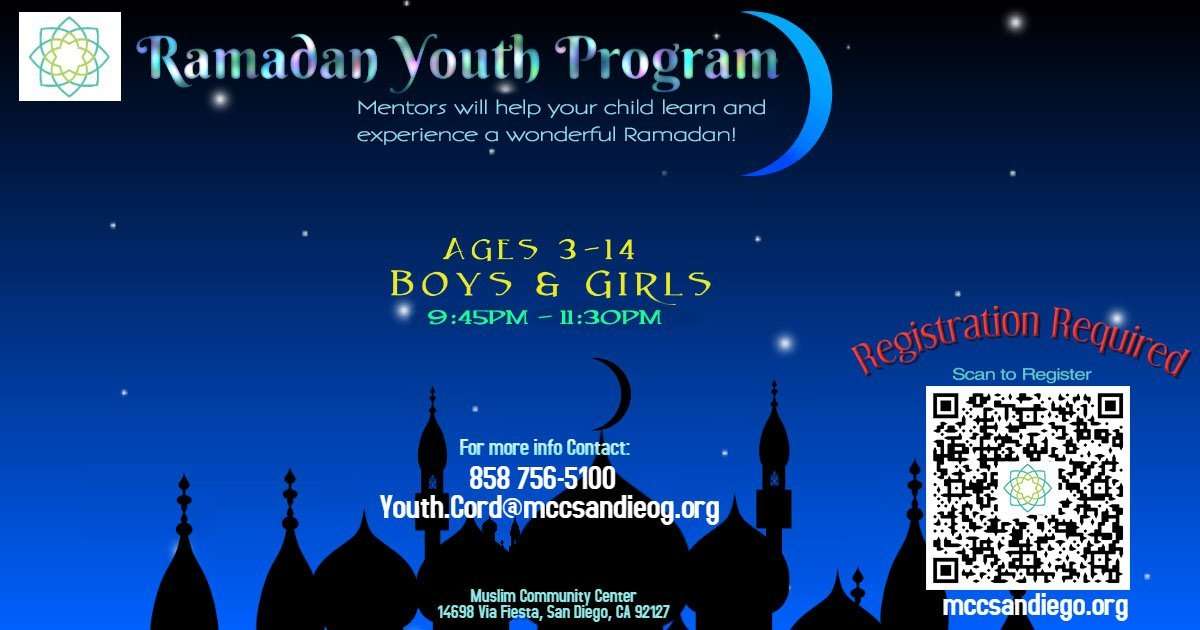 AsSalam Alaikum (peace be on you)
Dear Parents,
Alhamdulillah, Ramadan is here and our first taraweeh at MCC is tomorrow, Sunday May 5th starting after Isha prayer. (Isha 9:30 PM and Taraweeh 9:45 PM)
For everyone's safety and especially for our youth, we are asking all parents to have their children under parental or designated adult supervision at all times when at MCC during this time.
All youth (all ages) are highly encouraged to enjoy the prayers accompanying their parents. If for any reason your child is unable to continue the prayer after the Isha prayer, MCC is providing a FREE 'Ramadan Taraweeh Youth Program'.
RAMADAN TARAWEEH YOUTH PROGRAM:
Starting after Isha from 9:45 PM to 11:30 PM everyday
Ages 3 to 14 yrs — REGISTRATION IS REQUIRED here

Ages 15+ — No registration required (rest area tents outside)

Ages <3 yrs — No registration – in classroom with mom
REGISTER ONLINE (to avoid long line after Isha)
FREE Program- DONATIONS WELCOMED online or at the front desk

CHECK-IN and CHECK-OUT by parents

No youth will be allowed in the hallways or outside the building during Isha and taraweeh time if they are not praying. They need to be registered for the Youth Program by their parents and checked out by their parents.
The Youth Program will have youth mentors that will interact and engage with our youth for a great Ramadan experience. Children will be divided into various groups based on age depending upon the enrollment through the registration.
Our goal is to offer a welcoming environment for our current and future generations attending the prayers during this blessed month of Ramadan.
Insha Allah we ask all of you for your patience with our future (i.e., youth and the youth mentors). When leaving MCC premises, please be courteous to our neighbors by keeping the noise level down.